Bảo Hộ Chân Twins Shin Guards Pads FSGL10-55 Demon
PRODUCT SKU:
1,800,000VND
Mô tả
TWINS SHIN GUARDS PADS FSGL10-55 DEMON
(BẢO HỘ CHÂN TWINS FSGL10-55 DEMON)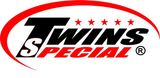 Double padded shin pads from Twins that are ideal for heavy sparring sessions as they provide lots of protection for the shin and have very good foot coverage. They are also very light and ergonomically shaped to allow for great maneuverability.
Features :
Handmade in Thailand
Double Padded
Ergonomically Shaped Design
Multi layered shock absorbing foam.
High Grade Thai Leather
---
Bảo hộ chân Twins có hai miếng đệm phù hợp cho các buổi tập sparring nặng vì chúng sẽ tăng cường bảo vệ cho ống chân và có độ che phủ chân rất tốt. Trọng lượng nhẹ và được công thái học cho phép khả năng cơ động tuyệt vời.
Đặc điểm :
Được làm thủ công bằng tay tại Thái Lan
Có hai miếng đệm
Thiết kế công thái học
Lớp đệm có thể chịu được những tác động mạnh tốt
Được làm từ da Thái cao cấp