Đai Bụng Twins Bepl3 Real Leather Double Padded Belly Pad
PRODUCT SKU: BEPL3
1,600,000VND
Mô tả
TWINS BEPL3 REAL LEATHER DOUBLE PADDED BELLY PAD
(ĐAI BỤNG TWINS BEPL3 DA THẬT 2 LỚP ĐỆM)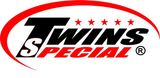 Description :
The Twins Belly Pad is made to handle the world-class punishment that Top fighters dish out.

It comes with a Velcro waist closure at the back; this allows for quick transitions from one training scenarios to the next; it also ensure an easy, secure fit.

The Belly Pad is ideal for training push kicks, knee strikes, and overall clinch training; it can be used in combination with punching mitts and kicking pads.

Double padded for extra protection from heavy hitters.

Made from 100% Thai leather and fine, high density padding.
---
Mô tả :
Đai bụng Twins được làm ra để có thể chịu đựng được tốt nhất, các võ sĩ chuyên nghiệp cũng có ấn tượng với sản phẩm này.

Đi kèm với dây dán ở phía sau, dễ dàng khi đeo vào và cũng đem lại sự vừa vặn.

Đai bụng là một ý tưởng được suy nghĩ ra cho việc tập luyện như là đá, tấn công bằng đầu gối, nó có thể được sử dụng kết hợp với đích đấm và đích đá.

2 lớp đệm để tăng việc bảo vệ tốt hơn từ những người nặng kí.

Được làm từ 100% da Thái cao cấp, đệm chất lượng cao.