ĐÍCH ĐẤM TWINS PML-13 CURVED SPEED MITTS - RED/WHITE
PRODUCT SKU: PML-13
2,100,000VND
Mô tả
TWINS PML-13 CURVED SPEED MITTS - RED/WHITE
(ĐÍCH ĐẤM TỐC ĐỘ TWINS PML-13 - ĐỎ/TRẮNG)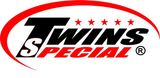 Features :
Twins Curved Speed Mitts are designed to be used by world-class fighters and their trainers.
Their firm, high-density foam padding enhances the balance between proper technique and shock absorption.
These small, durable mitts will give you the performance and resilience you will need to strive beyond the rest.
The open finger design provides extra ventilation; a great combination of comfort and protection.
They are ideal for ultra speed drills with the hands and increasing your punching accuracy.
They are crafted from 100% leather and superior, heavy foam padding. Twins Fight Gear sets the standard for quality construction, functional design, and visual appeal.



---
Đặc điểm :
Đích đấm tốc độ Twins được thiết kế để được sử dụng bởi các lớp tập boxing đẳng cấp thế giới và cho huấn luyện viên của họ.

Lớp đệm chất lượng cao tăng cường sự cân bằng giữa kỹ thuật thích hợp và chống shock tốt.

Thiết kế gọn nhẹ, bền sẽ cung cấp cho bạn hiệu suất hoạt động trong việc tập luyện.

Thiết kế ngón tay thoáng mát tạo nên sự thoải mái và vẫn có cảm giác được bảo vệ.

Đích đấm tốc độ Twins phù hợp trong việc tập luyện với những cú đấm tốc độ, tăng độ chính xác cho cú đấm của bạn.

Được làm bằng 100% da thật, đệm dày. Twins Fight Gear đặt tiêu chuẩn cho chất lượng thiết kế, và hình dáng đẹp mắt.