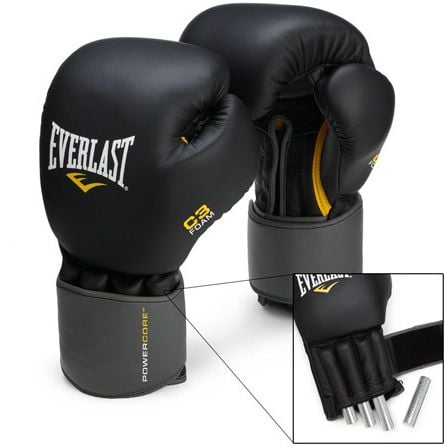 Găng Tay Everlast C3 Pro Weighted Heavy Bag Boxing Gloves
PRODUCT SKU: 121101
3,200,000VND
Mô tả
EVERLAST C3 PRO WEIGHTED HEAVY BAG BOXING GLOVES
(GĂNG TAY EVERLAST C3 PRO WEIGHTED HEAVY BAG)
Description :
Improve your speed and power progressively thanks to the Everlast C3 Pro Weighted Training Gloves.

6 removable weight inserts have been evenly distributed throughout the glove to add some extra resistance to your boxing training workouts.

You can gradually add the weights in as you become more comfortable with the heavier gloves, the full leather construction also means there's no holding back with these gloves you can train heavy and hard.

C3 Foam - Power & Protection in Every Punch. The contoured, closed-cell C3 Foam technology is designed with increased cushioning, support and force dispersion.

Powercore - stabilise your workout. Centralised balanced weight placement for maximum force dispersion.
Features :
High quality premium full leather glove for exceptional durability and long lasting use

Engineered for intense heavy bag training and mitt work

Features 6 x 0.18kg (6.5oz each) steel removable weight inserts in the wrist per glove to improve speed and power

Gloves without weights in weigh 1lb (16oz) and 3.5lbs (56oz) at max loaded weight

Full hook and loop velcro wrist wrap closure offers superior wrist support against high impacts

One size fits all design - no varying sizes
---
Mô tả :
Cải thiện tốc độ và sức mạnh của bạn dần dần nhờ vào khả năng thay đổi trọng lượng của găng Everlast C3 Pro.

6 thỏi chì có thể tháo rời được phân bố đều khắp găng tay để tăng thêm thử thách cho các bài luyện tập.

Đệm xốp C3 được thiết kế với sự tăng cường lớp đệm, hỗ trợ và phân tán lực.

Powercore - Hỗ trọ cân bằng và phân tán lực tối đa.
Đặc điểm :
Găng tay da cao cấp chất lượng cao cho độ bền vượt trội.

Các thỏi chì với trọng lượng 6 x 0.18kg (6.5oz mỗi) có thể tháo rời.

Găng tay không chì nặng 1lb (16oz) và tối đa là 3,5lbs (56oz) khi kết hợp với chì.

Miếng dán chắc chắn, giữ chặt cổ tay trong quá trình luyện tập.

Có một kích cỡ duy nhất.