GĂNG TAY TWINS FBGV-49WH SPECIAL FANCY BOXING GLOVES DRAGON
PRODUCT SKU: FBGV-49WH
1,550,000VND
Mô tả
GĂNG TAY TWINS FBGV-49WH VELCRO GLOVES
(THAILAND LEATHER 100%)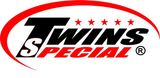 Features:
All Boxing Gloves are made of 100% cowskin leather.

Made in Thailand at the Twins Special factory.




For training, competition.

Comfort, long-lasting protection.full security, ideal for auick wear and take off.




Twins Special Velcro Boxing Gloves, Twins, Velcro,

Boxing, Muay Thai, Kickboxing,...

Size Twins Gloves: 8oz, 10oz, 12oz, 14oz, 16oz.
---
Đặc điểm
Là một trong những mẫu găng tay bán chạy nhất hiện nay trên thị trường.

Handmade in Thailand - Hàng chính hãng Twins.

Được sản xuất bằng nguyên liệu da cao cấp.

Đệm xốp dày dặn, tạo cảm giác êm tay.

Có các lỗ thoáng khí giúp thoát hơi bên trong găng.

Độ bền cao tuổi thọ sử dụng trên 18 tháng.

Được nhiều CLB lớn và đội tuyển sử dụng cho tập luyện và thi đấu.