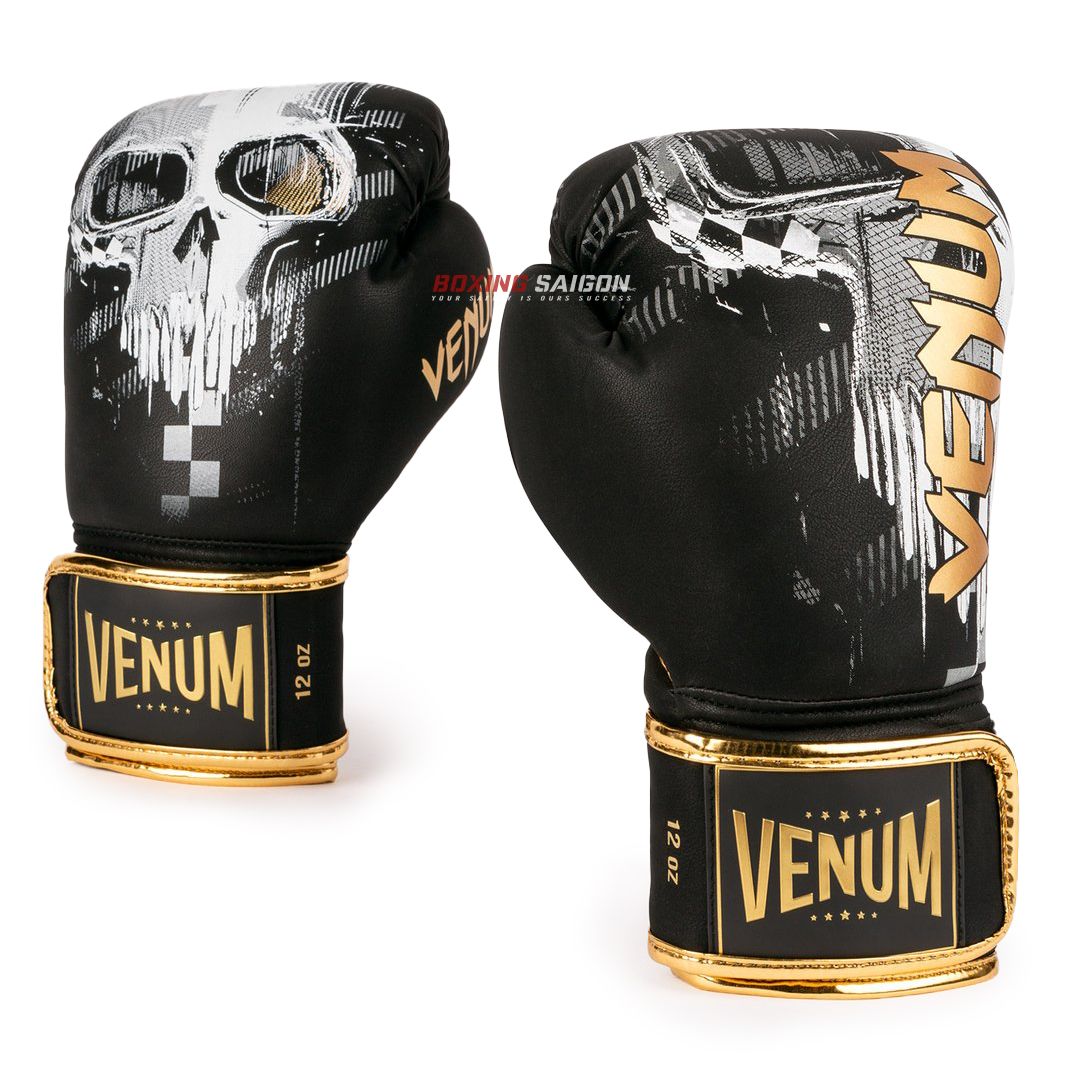 Găng Tay Venum Skull Boxing Gloves
PRODUCT SKU:
2,400,000VND
Mô tả
VENUM SKULL BOXING GLOVES
(GĂNG TAY BOXING VENUM SKULL)

Description
Skull boxing gloves are derived from the Venum Impact range. Therefore, they incorporate similar characteristics. A very absorbent glove, offering comfort and protection. It is suitable for very regular use and heavy training sessions.
The seams of the premium PU coating have been reinforced to maximize the life of this pair of gloves ideal for boxing, Muay Thai or kickboxing.
The ventilation system facilitates the evacuation of perspiration and the elongated cuffs deliver additional comfort and support.
A striking and asymmetrical design brings the final touch to these gloves, which will quickly become your new favorites.
Technical Features
100% premium PU

Regular use: 3 to 4 times a week.

Triple density foam for optimal shock absorption.

Reinforced palm for improved comfort.

Thumb attached for added protection against injury.

Reinforced seams for increased durability.

Large self-gripping closure system for good support.
---
Mô tả
Găng tay boxing Skull có nguồn gốc từ dòng sản phẩm Venum Impact. Do đó, chúng kết hợp các đặc điểm tương tự. Một chiếc găng tay rất thấm hút, mang lại sự thoải mái và bảo vệ. Nó phù hợp để sử dụng thường xuyên và các buổi tập nặng.
Các đường nối của lớp phủ PU cao cấp đã được gia cố để tăng tối đa tuổi thọ của đôi găng tay này, phù hợp cho các môn Boxing, Muay Thái hay kickboxing.
Hệ thống các lỗ thoáng khí tạo điều kiện thuận lợi cho việc thoát mồ hôi và cổ tay được kéo dài thêm mang lại sự thoải mái và hỗ trợ tốt.
Một thiết kế nổi bật và bất đối xứng đậm nét của đôi găng tay này, chúng sẽ nhanh chóng trở thành món đồ yêu thích mới của bạn.
Đặc tính kỹ thuật
100% da PU cao cấp

Sử dụng thường xuyên: 3 đến 4 lần một tuần.

Bọt xốp mật độ gấp ba lần để hấp thụ sốc được tối ưu.

Lòng bàn tay được gia cố để cải thiện sự thoải mái.

Ngón tay cái được nối với găng để bảo vệ, hạn chế thương tích.

Các đường may được gia cố để tăng độ bền.

Miếng dán lớn hỗ trợ tốt.