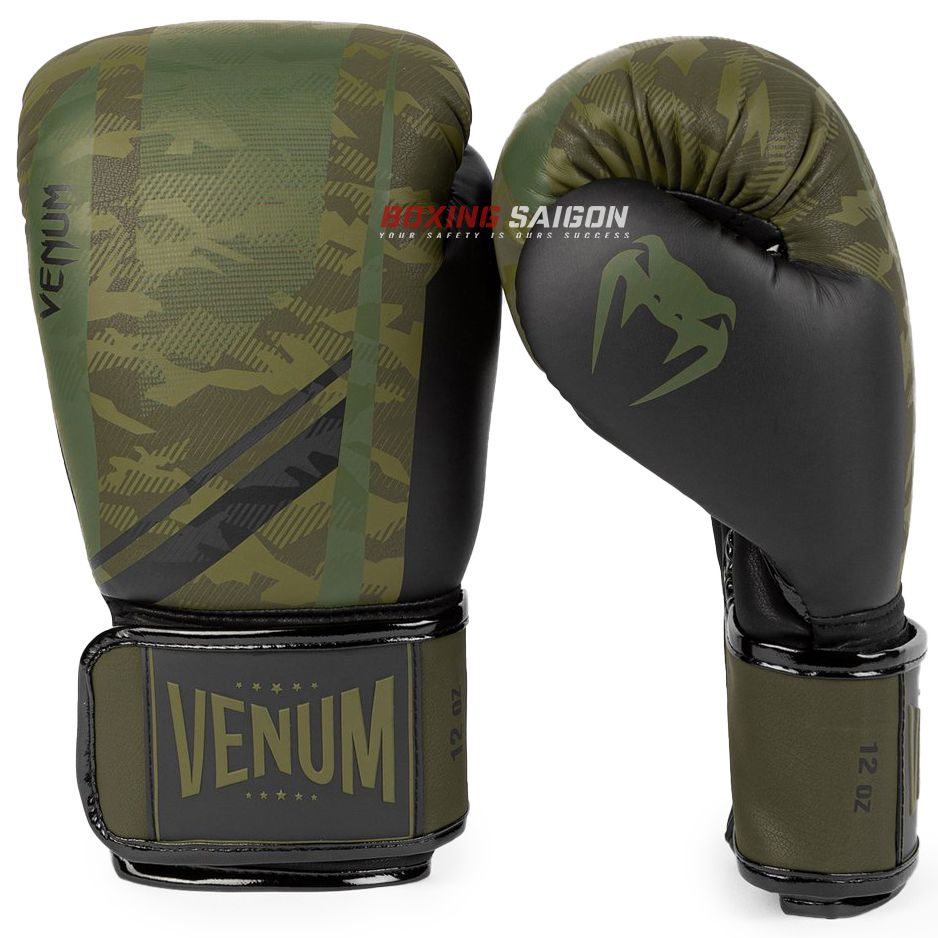 Găng Tay Venum Trooper Boxing Gloves - Forest Camo/Black
PRODUCT SKU:
2,300,000VND
Mô tả
VENUM TROOPER BOXING GLOVES - FOREST CAMO/BLACK
(GĂNG TAY BOXING VENUM LAB - CAMO/ĐEN)

Description
The Trooper Boxing Glove is derived from the "Impact" series and incorporates all of its characteristics.
Offering a high level of protection and comfort. The layered foam construction allows for increased cushioning. The striking impact is absorbed by the multitude of layers and their varying densities.
Within the glove, the hand will sit naturally and ergonomically to limit the risks of trauma to the wrist and the metacarpals.
The outer layer is a very soft high-end PU.
The Trooper Glove is suitable for very regular use of boxing, Muay Thai or fitness boxing.
Technical Features
100% premium PU

Regular use: 3 to 4 times a week.

Triple density foam for optimal shock absorption.

Micro-perforated coating for optimal ventilation.

Reinforced palms for improved comfort.

Attached thumb for increased protection from injury.

Anatomical shape.

Large self-gripping closure system for good support.

Designed as part of the new Trooper line.
---
Mô tả
Găng Boxing Trooper có nguồn gốc từ loạt phim "Impact" và kết hợp tất cả các đặc điểm của nó.
Mang lại mức độ bảo vệ cao và thoải mái. Cấu trúc bọt xốp nhiều lớp cho phép tăng độ êm. Cú đấm được hấp thụ bởi vô số lớp đệm và phục hồi chúng.
Với đôi găng này, bàn tay sẽ được đặt một cách tự nhiên và thoải mái để hạn chế rủi ro chấn thương cho cổ tay và các khớp tay.
Lớp ngoài là PU cao cấp rất mềm mại.
Găng tay Trooper phù hợp để sử dụng thường xuyên trong các môn Boxing, Muay Thái hoặc fitness boxing.
Đặc tính kỹ thuật
100% da PU cao cấp.

Sử dụng thường xuyên: 3 đến 4 lần một tuần.

Ba lớp bọt xốp để hấp thụ sốc tối ưu.

Lớp phủ có lỗ siêu nhỏ để việc thông thoáng được tối ưu.

Lòng bàn tay được gia cố để cải thiện sự thoải mái.

Ngón tay cái được nối với găng để hạn chế chấn thương.

Hình dáng thon gọn.

Miếng dán lớn hỗ trợ tốt.

Được thiết kế như một phần của dòng Trooper mới.