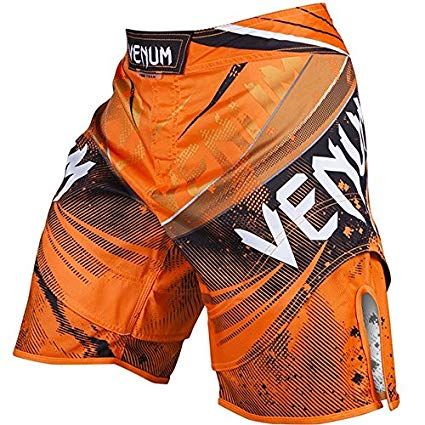 QUẦN MMA VENUM GALACTIC FIGHTSHORTS - ORANGE
PRODUCT SKU:
550,000VND
Mô tả
Developed in collaboration with MMA Fighters. Tested and approved in the greatest tournaments, the Venum "Galactic" Fightshorts will bring out the best in you, without restrictions.
After months of exhaustive research and rigorous analysis, the Venum "Galactic" Fightshorts are the ultimate answer to your fighting performances request.
Their advanced fit follows and supports your range of moves in order to provide to the multi-discipline athlete the more versatile fightshorts.
The ultra-resistant microfiber benefits from a premium mesh finish on the thigh. Perspiration is transported outward, keeping you more dry and focus in the heat of action.


Đã được hợp tác, phát triển, kiểm tra và phê duyệt trong các giải đấu lớn như MMA, quần Venum Glactic Fighshorts sẽ mang lại lợi thế tốt nhất cho bạn mà không có sự hạn chế nào.
Được nghiên cứu và phân tích bởi các chuyên gia hàng đầu sau nhiều tháng, quần Venum Glactic Fightshorts là lựa chọn cuối cùng để nâng cao kỹ năng cũng như thành tích của bạn.
Sản phẩm này phù hợp với nhiều thể trạng khác nhau và hỗ trợ tốt để cho khả năng di chuyển cũng như các kỹ thuật khó hơn. Do đâu mà có điều này, những lợi ích tưởng như nhỏ từ sự thấm hút mồ hôi cũng như sở hữu lớp giáp lưới cao cấp khiến cho mọi hành động trở nên thanh thoát hơn và đẳng cấp hơn.
The Venum "Galactic" fightshorts are equipped with Venum "Vault" innovative closing for a perfect maintain and a smooth sensation on your skin.
Sky is not the limit. Galaxy is waiting for you.
Technical features:
- Ultra lightweight microfiber fabric.
- Mesh panels for an upper and optimal thermal regulation.
- Lateral splits reinforced for a longer durability and a hard-wearing even against the most savage grips.
- Vault™ 3-Way innovative closure system for a perfect hold.
- Speed Grip™ for an easier and faster adjustment of your fight shorts.
- Logos fully sublimated for a better durability.
- UFC Venum Fight Team Edition: Engineered for World Class Athletes.