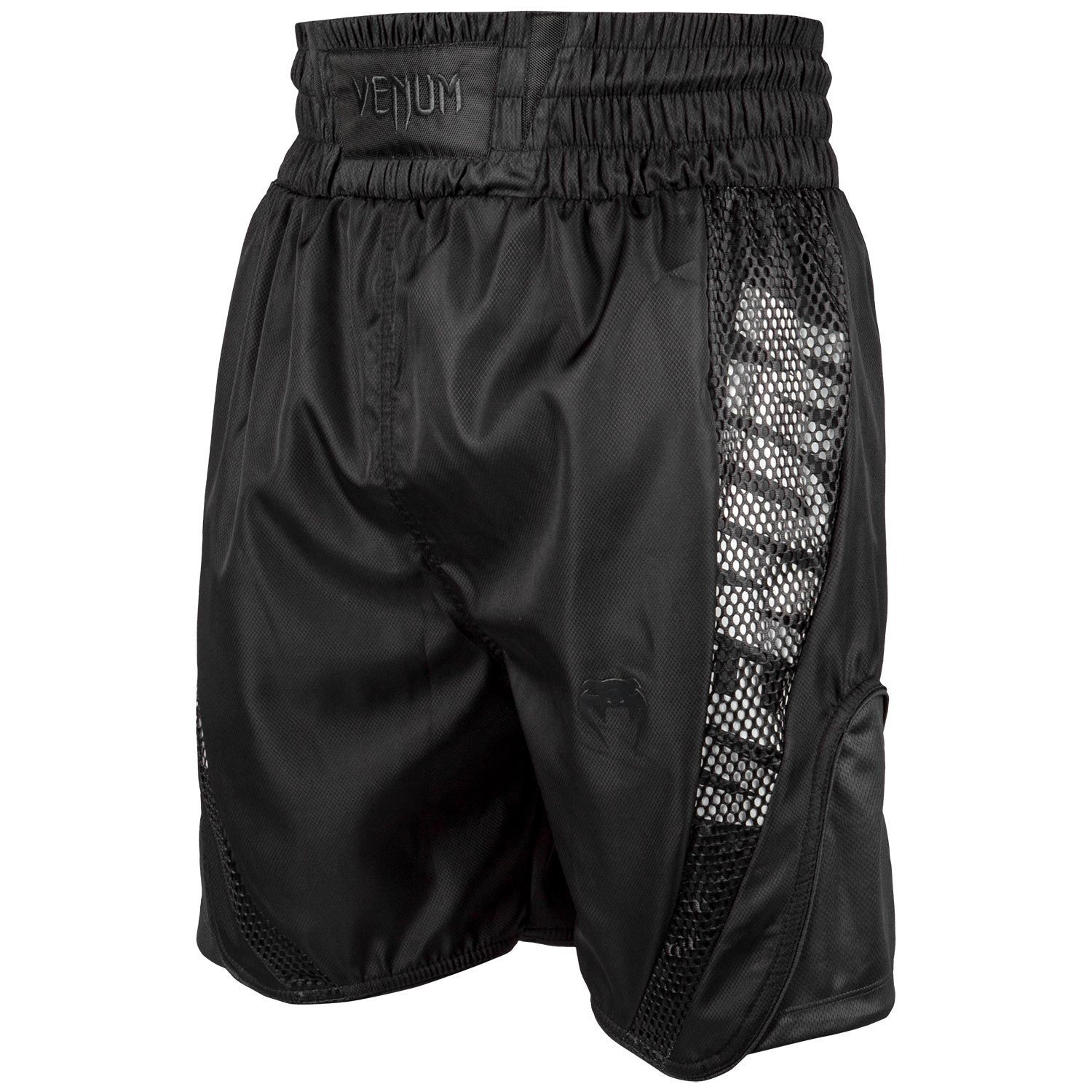 Quần Venum Elite Boxing Shorts - Black/Black
PRODUCT SKU:
1,700,000VND
Mô tả
VENUM ELITE BOXING SHORTS - BLACK/BLACK
(QUẦN BOXING VENUM ELITE - ĐEN)


The Venum Elite boxing shorts are made of high quality polyester to ensure lightness and durability. The material allows total freedom of movement and due to their reinforced seams, the shorts will have a long lifespan to accompany you in your training and fights.
The wide stretch belt guarantees an excellent fit for the athlete. The shorts efficiently attach to the waist thanks to a drawstring design, and will keep up with your footwork without running the risk of slipping or riding up.
Features :

100% Polyester.
Mesh side vents for excellent breathability.
Stretch-belt up to 58 cm (with room for cup).
Embroidered logo on the front and back.
Venum logo on the mesh side panels.
SKU : VENUM-03452-114
---
Quần Boxing Venum Elite được làm bằng chất liệu vải Poly để đảm bảo độ nhẹ và bền của chiếc quần này. Chất liệu này cho phép bạn có thể tự do thoải mái di chuyển do các đường chỉ được may chắc chắn, chiếc quần này có tuổi thọ cao và sẽ đồng hành cùng bạn trong suốt quá trình luyện tập và thi đấu.
Phần lưng thun rộng đảm bảo phù hợp tuyệt vời cho vận động viên. Nó có thêm phần dây rút ở phía bên trong tạo nên sự vừa vặn và sẽ theo kịp những bước chân của bạn mà không có dấu hiệu bị trượt hoặc đi lên.
Đặc điểm :
Được làm hoàn toàn 100% bằng chất liệu vải Poly
Có tấm lưới ở 2 bên giúp thông thoáng khí tốt hơn
Dây đai quần có thể kéo dài tới 58 cm ( có chỗ cho bạn có thể để kuki vào bên trong)
Logo Venum được thêu ở mặt trước lẫn mặt sau
Phía 2 bên quần cũng được nâng cao thẩm mỹ nhờ có logo Venum sau những tấm lưới
Mã sản phẩm : VENUM-03452-114