Bảo Hộ Đầu Twins HGL10 Face-Saver Head Gear - Black
PRODUCT SKU: HGL10
3,700,000VND
Mô tả
TWINS HGL10 FACE-SAVER HEAD GEAR - BLACK
(BẢO HỘ ĐẦU TWINS HGL10 FACE-SAVER - ĐEN)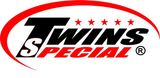 Features :
The Twins Face-Saver Headguard has a steel frame inside which covers all of the face area with a bar across the nose for the ultimate face protection.
Perfect to use while sparring to prevent cuts and bruises.
Open chin (with adjustable strap) for unrestricted breathing which can be a common problem with this style of headguard.
Designed for full contact sparring and stands up to the punishment dished out by world-class fighters.
The firm, high-density foam padding and greater face coverage increase safety and improve the balance between comfort and shock absorption.
Made from high grade Thai leather.
---
Đặc điểm :
Bảo hộ đầu Twins có một khung thép chắn ngang mũi để có thể bảo vệ khuôn mặt tối ưu.

Hoàn hảo trong việc tập luyện với bạn tập của mình, ngăn việc để lại vết bầm và vết đứt trên khuôn mặt của bạn.

Phần cằm có dây đeo để có thể điều chỉnh.

Được thiết kế để tập luyện đối kháng với nhau và có thể chống chịu tốt qua những cú đấm của võ sĩ chuyên nghiệp.

Lớp đệm chắc chắn, độ dày cao và phần mặt được che phủ làm tăng tính an toàn và cải thiện sự cân bằng giữa sự thoải mái và chịu được tác động mạnh.

Được làm từ da Thái cao cấp.