Đích Đá Twins Kpl-10 Curved Leather Thai Kick Pads - Black/Red
PRODUCT SKU: KPL-10
3,100,000VND
Mô tả
KPL10 Twins Curved Leather Thai Kick Pads
(ĐÍCH ĐÁ TWINS KPL-10 - ĐEN/ĐỎ)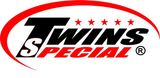 Seriously high quality curved Thai kick pads from Twins, hand made and finished to an exceptional standard, made to withstand many years of punishment from top level muaythai and MMA fighters.Features velcro fastening arm straps for convenience and ease of use when putting on, taking off and adjusting.
Made from 100% Thai leather and top-of-the-line high density padding.
Features:
Handmade in Thailand
Padded forearm support
No metal on straps for added safety
Air release holes top and bottom
---
Đích đá twins làm từ chất liệu có chất lượng cao, được làm thủ công bằng tay và hoàn thành theo tiêu chuẩn đặc biệt, được làm ra để có thể chịu đựng được những cú đá từ các võ sĩ chất lượng đến từ Muay Thai và MMA. Sử dụng băng dán ở tay giúp cho việc thuận tiện và dễ dàng sử dụng khi đeo vào hoặc tháo ra.
Được làm từ 100% da thật từ Thái Lan cùng với lớp đệm tốt hàng đầu.
Đặc điểm :
Được làm thủ công bằng tay tại Thái Lan
Lớp đệm ở cẳng tay để tăng phần hỗ trợ
Không có kim loại trên dây dán cổ tay để thêm phần an toàn
Bao gồm lỗ thoát khí ở phía trên và dưới